Recipes with Iberico Ham
Iberico Ham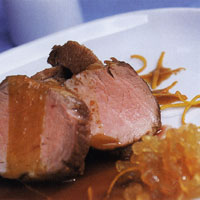 Iberico Pork Sirloin in Orange Sauce with Pedro Ximenez
Servings: 4
Prep Time: 30 min.
Cook Time: 1 hour
Ingredients:
2 Iberico pork sirloins
2 tbsp oil
1/2 cup Pedro Ximenez
Marinade:
2 tbsp oil
Juice of two oranges and the zest of one
2 tbsp soy sauce
2 tsp vinegar
Pinch of cayenne pepper
Salt
Caramelized onion:
2 onions
2 tbsp sugar
2 tbsp oil
Preparation:
Marinade:
Mix the ingredients together. Season the meat and marinate in this mixture for 12 hours in the refrigerator.
Sirloins:
When it is almost time to serve, remove the sirloins from the marinade and drain. Brown on both sides in the hot oil. Remove from pan, add marinade and reduce for 10 minutes over a hot flame. Add the Pedro Ximenez and bring to a boil, mixing in all the pan juices.
Caramelized onions:
Slice the onion into rings and cook gently with the oil and sugar, until caramelized. Cut the pork into slices and serve with the Pedro Ximenez sauce and caramelized onion.
By Maria Jesus Gil de Antunano
Recipe courtesy of Spain GourmeTour magazine.